2022 DS Project Showcase
Data Science Fellows from UCSB and Cal Poly showcase their research. 
May 27, 2022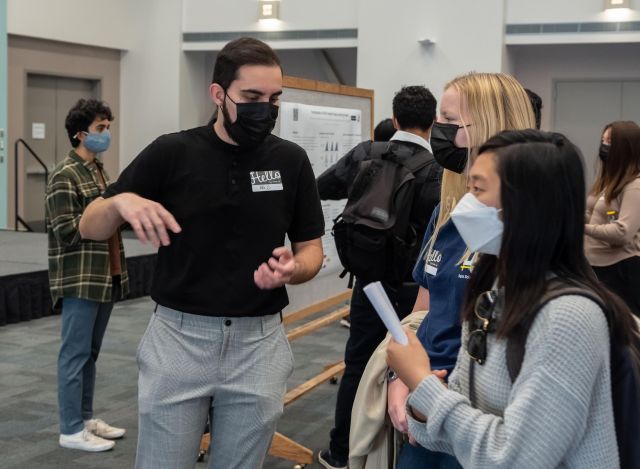 Data Science Fellows from UC Santa Barbara and Cal Poly San Luis Obispo came together at UCSB's Corwin Pavilion on Friday, May 27 to showcase their research. The projects featured by UCSB students are the results of this year's Data Science Capstone class. Cal Poly's posters highlight research conducted between fellows and their faculty advisors. 
From 11:30 am until 1:30 pm, Corwin Pavilion became a stage for project results. Faculty and students interested in data science, including next year's capstone cohort, walked among the poster presentations, giving the student researchers a chance to talk about the sum of their efforts over the past 9 months.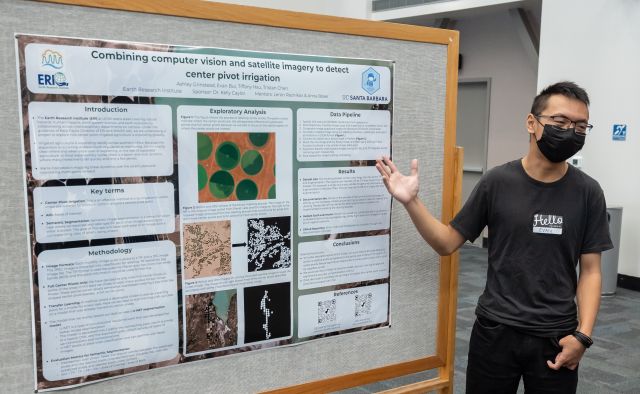 2022 marked the first Data Science Capstone Showcase at UCSB. The course, concurrently listed as CMPSC 190DD/DE/DF and PSTAT 197A/B/C began in the 2020-2021 school year, but COVID-19 precautions eliminated the chance for in-person gathering. The entire data science community is looking forward to showcases like these being an annual occurrence. For more information about the event, read an article in the UCSB Current by Sonia Fernandez. Posters from the event will be made available on the CCDSP projects page. 
List of projects/posters:
Big Bee: Hair Recognition & Quantification, sponsored by the Cheadle Center for Biodiversity and Ecological Restoration.
Combining computer vision and satellite imagery to map center pivot irrigation, sponsored by UCSB's Earth Research Institute.
Compression of NLP-Domain Deep Learning Models, sponsored by Pricewaterhouse Coopers (PwC).
Deep image reconstruction from human brain activity, sponsored by UCSB's Perception, Cognition, and Action Lab.
Deep learning recommendation system for property management software, sponsored by AppFolio.
Demographic Predictors of Climate Opinion, sponsored by UCSB's Energy and Environment Transition Lab.
Identifying Elephant Seals from Aerial Images, sponsored by Cal Poly's Vertebrate Integrative Physiology Lab.
Impacts of a documentary: The Social Dilemma - analyzing changes in social media usage behavior, sponsored by the Center for Information Technology and Society.
Interactive spatio-temporal visualization of long-term physical characteristics of California coastal waters, sponsored by the California Cooperative Oceanic Fisheries.
Modeling Neurodegeneration with Single Cell RNA Sequencing, sponsored by UCSB's Neuroscience Research Institute.
Multi-class claims activity classification based on HTML data, sponsored by Carpe Data.
Polish Opposition Network Analysis, sponsored by Cal Poly's Data Science Initiative.
Product recommendation on scraped usage data, sponsored by HG Insights.
Quantifying Security - Visualizing Usability of Allthenticate, sponsored by Allthenticate.
Social Media and Public Health, sponsored by Cal Poly's Data Science Initiative.
Stock Market Analysis with Machine Learning, sponsored by Cal Poly's Data Science Initiative.
Stress indicators for frontline COVID-19 healthcare workers, sponsored by Evidation Health.
Wearables Predict Stress in Frontline Healthcare Workers, sponsored by Evidation Health.