Larval Fish Assemblage as an Indicator to Predict the Fisheries Catch

About the Project
CALCOFI studies the marine environment of coastal California and investigating the relationships between climate, fish population, and other human activities. This project seeks to establish whether any correlation can be drawn from two separate datasets, as well as possibly investigate any environmental factors that add variance to the relationship. The two data sets under investigation are
Fish larvae catch data from CALCOFI cruises intended to measure populations of various species;
Commercial fish data from fisheries in California.
How does fish catch change in relation to changing environmental conditions & larval community composition? Do we find that El Nino year conditions have lower recreational and/or commercial catch (lbs) /catch value ($)?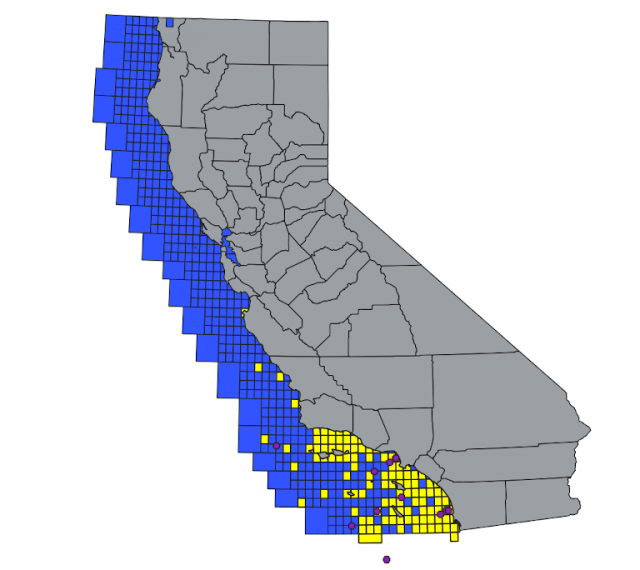 Consider this initial project visualization of Yellowtail larvae identified in 2016 (purple) compared to all locations Yellowtail were caught in the years 2017-2019 (yellow). The time lag was picked to give enough time for recruitment to happen, so the larvae identified in 2016 could possibly be the same fish caught in the later years. All the larvae and almost all of the catches occurred within the Southern California bight which might suggest some spatial relations.
The team will explore the data in more depth, also looking at other species and timeframes. 
About CalCOFI
The California Cooperative Oceanic Fisheries Investigations (CalCOFI) are a unique partnership of the California Department of Fish & Wildlife, NOAA Fisheries Service and Scripps Institution of Oceanography. The organization was formed in 1949 to study the ecological aspects of the sardine population collapse off California. Today our focus has shifted to the study of the marine environment off the coast of California, the management of its living resources, and monitoring the indicators of El Nino and climate change. CalCOFI conducts quarterly cruises off southern & central California, collecting a suite of hydrographic and biological data on station and underway. Data collected at depths down to 500 meters include: temperature, salinity, oxygen, phosphate, silicate, nitrate and nitrite, chlorophyll, transmissometer, PAR, C14 primary productivity, phytoplankton biodiversity, zooplankton biomass, and zooplankton biodiversity.
In 2004, the CalCOFI surveys became part of the LTER (Long Term Ecological Research) ecological studies network as a site to understand the pelagic ecosystem of the California Current....