Climate Change and Young Fish: the Relationship between pH and aspects of larval fish assemblage in the California Current

About the Project
CALCOFI studies the marine environment of coastal California and investigating the relationships between climate, fish population, and other human activities. This project looks for correlations between the water characteristics of multiple coastal regions and the makeup of the marine life there, with hopes of providing insight to future observations on what the makeup of marine life should be. This can be vital to preserving the environment, helping endangered marine species, and ensuring the well health of our oceans in general as well.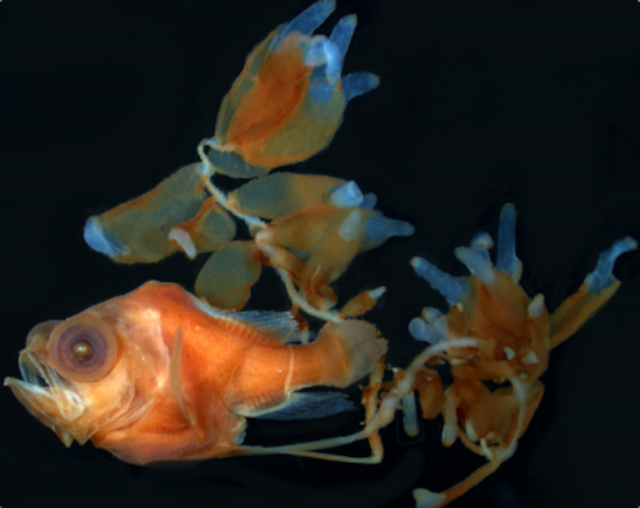 The team has access to two large time-series datasets. The first is a large collection of water characteristics across many regions and depths of California's coast from 2008-1015. The second is an even larger data set comprising the topology and makeup of many species of California marine life from 1904 to the present. Given the disparity in time-steps, the water characteristic data set requires backward forecasts that accurately predict water temperature and salinity. 
In addition to correlations between the makeup of water and how these characteristics affect the current and future states of how marine life, the team is also exploring the various causal factors for water characteristics that vary from region to region, which in turn affects the makeup of marine life.
About CalCOFI
The California Cooperative Oceanic Fisheries Investigations (CalCOFI) are a unique partnership of the California Department of Fish & Wildlife, NOAA Fisheries Service and Scripps Institution of Oceanography. The organization was formed in 1949 to study the ecological aspects of the sardine population collapse off California. Today our focus has shifted to the study of the marine environment off the coast of California, the management of its living resources, and monitoring the indicators of El Nino and climate change. CalCOFI conducts quarterly cruises off southern & central California, collecting a suite of hydrographic and biological data on station and underway. Data collected at depths down to 500 meters include: temperature, salinity, oxygen, phosphate, silicate, nitrate and nitrite, chlorophyll, transmissometer, PAR, C14 primary productivity, phytoplankton biodiversity, zooplankton biomass, and zooplankton biodiversity.
In 2004, the CalCOFI surveys became part of the LTER (Long Term Ecological Research) ecological studies network as a site to understand the pelagic ecosystem of the California Current....