2023 Capstone Showcase
Third joint UCSB + Cal Poly Data Science Showcase scheduled for June 5, 2023. 
May 16, 2023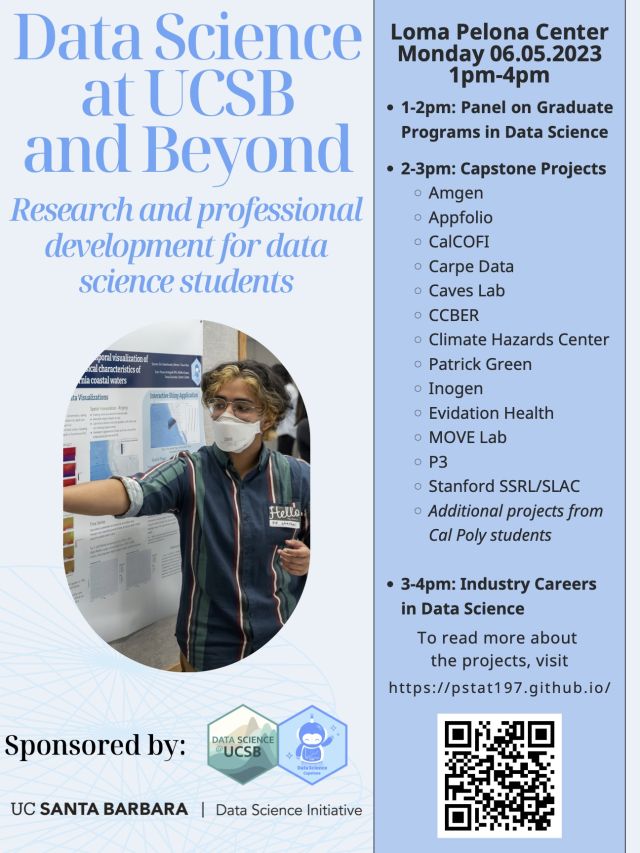 Data Science students from UC Santa Barbara and Cal Poly San Luis Obispo will join forces once again to present sponsored research undertaken during the 2022-2023 school year. Data Science undergraduate fellows from UCSB and Cal Poly will present posters alongside capstone students from UCSB and a number of other student-run organizations, including the UCSB Data Science Club.  We anticipate more than 20 projects on display. 
New for 2023, the project showcase will run in conjunction with two panels on research and professional development for data science students. As bookends for the research presentations, the panels will include discussions of the experiences of both people in graduate school and in industry.
Data Science Project Showcase
Date: June 5, 2023
Location: Loma Pelona Center, UCSB
1:00 pm - Panel on Graduate Programs in Data Science
2:00 pm - Capstone Poster Presentations
3:00 pm - Industry Careers in Data Science
The event is sponsored by the UCSB Data Science Initiative, with support also from NSF grant  #1924205.