SBCC Hosts Data Science Careers Panel
SBCC hosts a panel to introduce data science research and career opportunities. 
February 10, 2022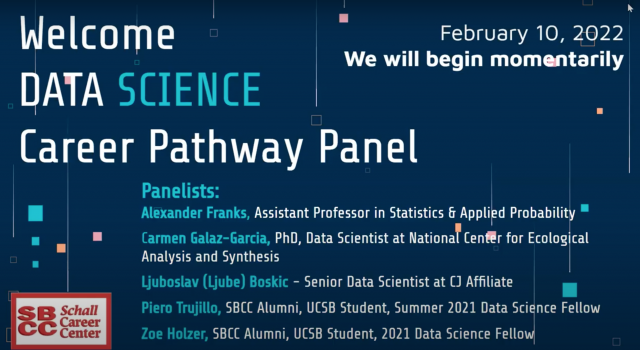 On February 10, 2022, Professor Nathalie Guebels, the Chair of Computer Science at Santa Barbara City College, hosted a panel of data scientists through the SBCC Career Center. She was joined by Alexander Franks, Assistant Professor in Statistics & Applied Probability at UCSB, Carmen Galaz-Garcia, PhD, Data Scientist at National Center for Ecological Analysis and Synthesis (NCEAS), and  Ljuboslav ( Ljube) Boskic, Senior Data Scientist at CJ Affiliate. Student panelists were Piero Trujillo and Zoe Holzer, both of whom are SBCC Alumni and current students at UCSB.
Christina Maguire, SBCC's internship coordinator, moderated the hour-long presentation, asking all panelists to share information about their educational background and career journeys. Panelists detailed some of the past and current research projects and spoke about the approachability and breadth of data science. A recording of the presentation, sans audience Q&A,can be found here. 
The data science panel plugged Central Coast Data Science summer fellowships for community college students. For more information, and to apply for Summer 2022, please visit our fellowships page.