2021 National Workshop on Data Science Education
UC Berkeley will host the 4th Annual National Workshop on Data Science Education
June 6, 2021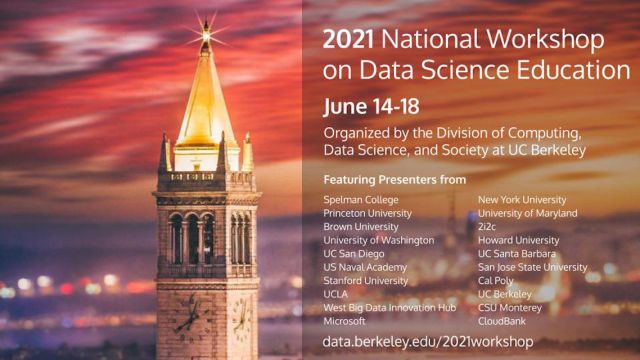 UC Berkeley will host its fourth annual National Workshop on Data Science Education for data science instructors on June 14-18. Attendance is free, but those interested in attending must submit this form listing their institution and experience.
The workshop, to be held online, is organized by Berkeley's Division of Computing, Data Science, and Society with support from Microsoft and the West Big Data Innovation Hub.
When the pandemic caused organizers to switch from an in-person meeting to an online venue last year, it also opened the workshop to many more attendees. More than 500 people registered for the 2020 session, up from about 80 the year before.
"The pandemic has caused all of us to rethink how we teach, and in our case we were able to expand the workshop so anyone who wanted to could attend," said Eric Van Dusen, interim director of Cal's Data Science Undergraduate Studies and co-organizer of the workshop. 
Berkeley has been a leader in developing an undergraduate data science program, recently graduating 668 students majoring in data science with another 369 minoring in the subject. The workshop provides attendees with an opportunity to learn about Berkeley's experience, as well as that of other universities and colleges.
The 2021 workshop will feature presenters from over 30 institutions, including Spelman College, the University of Washington, UC San Diego, the U.S. Naval Academy, Stanford, UCLA, NYU, the University of Maryland, Baltimore County, Howard University, UC Santa Barbara, San Jose State, Cal Poly San Luis Obispo, CSU Monterey, and Berkeley.
The workshop program includes:
A one-day bootcamp on teaching a Data 8-style fundamentals class on Monday, June 14
Office hours for the Berkeley professors and student staff and labs for Data 8, Data 100 and Data Science Modules, which bring data science to a wide range of courses, on Tuesday, June 15 
Panels and discussions on a variety of topics Wednesday to Friday, June 16-18.
"The panel discussions bring together a broad range of experiences and expertise, making the program both richer and more inclusive," said Anthony Suen, director of programs for the Data Science Education Program and co-organizer of the workshop.