Data Science Partnership Featured in the Daily Nexus
UCSB's Daily Nexus on the Central Coast Data Science Partnership.
April 2, 2020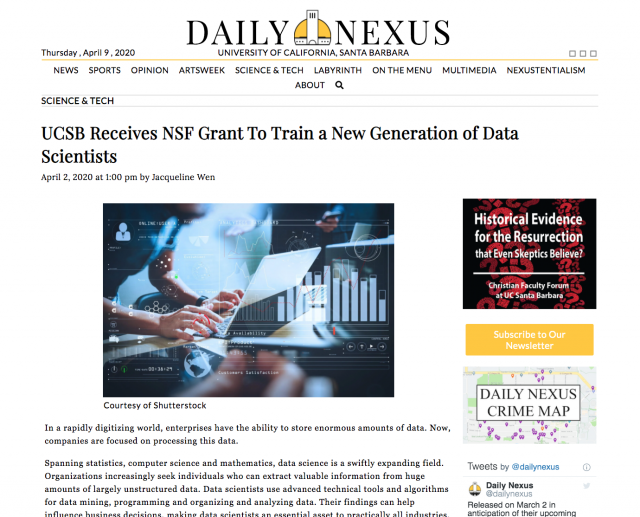 From the Daily Nexus article, by Science and Tech Editor, Jaqueline Wen:
In a rapidly digitizing world, enterprises have the ability to store enormous amounts of data. Now, companies are focused on processing this data.

Spanning statistics, computer science and mathematics, data science is a swiftly expanding field. Organizations increasingly seek individuals who can extract valuable information from huge amounts of largely unstructured data. Data scientists use advanced technical tools and algorithms for data mining, programming and organizing and analyzing data. Their findings can help influence business decisions, making data scientists an essential asset to practically all industries.

To foster student engagement in data science education and outreach, the National Science Foundation's (NSF) Central Coast Data Science Initiative (CCDS) has awarded over $1.2 million to four universities and colleges. UC Santa Barbara has been granted nearly $920,000 over three years....
Read the full article here.